Big Flight Over America
This project comes at beginning of 2012 after "dust off" game Microsoft Flight Simulator X (FSX), which I didn't flew for a long time and which I started to miss. Flying is my big hobby and as young man I completed glider school with successful obtaining base glider license, and of course, I was always interested in gliding in FSX game. Simulation of gliding in FSX is quite well done, so it is possible to use classic thermals as like as ridge lift on the sides of hills. Who knows gliding sport, know what I am talking about, who not, see Wikipedia e.g.
Simulation of thermals in base FSX is not completely perfect, mostly because of discrepancy of thermal's occurrence in relation with graphics of clouds. In real gliding, thermal is rising air formed upon the ground warmed by sunlight, and then cumulus clouds are created from condensed water upon this stream of air, These clouds are the best way for pilots to identify thermals. According to shape of these clouds, their progress in time etc., skilled pilots could estimate, how strong thermal is, how long it will exist, or if it is already fading out because of change of air conditions. Based on it, they can control their flyover. In base FSX, there is no relationship between clouds and thermals, so they are visualized by transparent spirals in the air. But there is CumulusX add-on existing, which generates near realistic behavior thermals including cumulus upon each of them. Even, the game consider season, time of day and geographical conditions to differentiate individual thermals meaning their strength, diameter, height and, of course, amount of their occurrence. So these unpredictable conditions still forces glider pilot to make right decisions about the flight way, which is interesting.
After I was bored to pointlessly circle in thermals upon the different places, I started to think about possibility of flyover the whole continent only using thermals and ridge lifts, e.g. North America. It was necessary to specify plan and some rules to approach as much as possible reality. Here they are:
- goal of 1st etape is to fly over North America from most-west airfield (Wales IWK, Alaska) to most-east airfield (St John's International CYYT, New Founland) - etape finished in 15 flight days
- goal of 2nd etape is to fly from North Americ to the southest cape at South America - etape is running now
- I will always take off at field, which I was landing on day before, take off will be executed by tow-plane to 5000 ft
- during flight only thermals and ridge lifts can be used
- landing must be executed at any airfield .... in case of other terrain landing flight must be repeated
- goal of every flight day is to fly as much as possible distance, if desired
- every flight will be logged by screenshots from Flight Analysis, and of course from flight itself, if will be interested
- first flight day was decided April 21th (meaning FSX Calendar)
- after two following flight days must be one free day
- after every 5 flight days must be at least 3 free days
- every calendary month must be one week free
- between any two flight days can be one week free max
- rules above were determined for simulating of necessary rest, weather disgrace, faults and repairs, flight provisioning and supplying .. etc., and may produce more variability in flight conditions (season, length of the day, weather .. and so on)
This is rough skelet of my gliding journey, details can be found in Flight Log.
If you are interested in my "cockpit equipment", excepting of PC and one 24" display it is Saitek X65F Combat Control System including Saitek Pro Flight Rudder Pedals :-)
Map of actual flyover state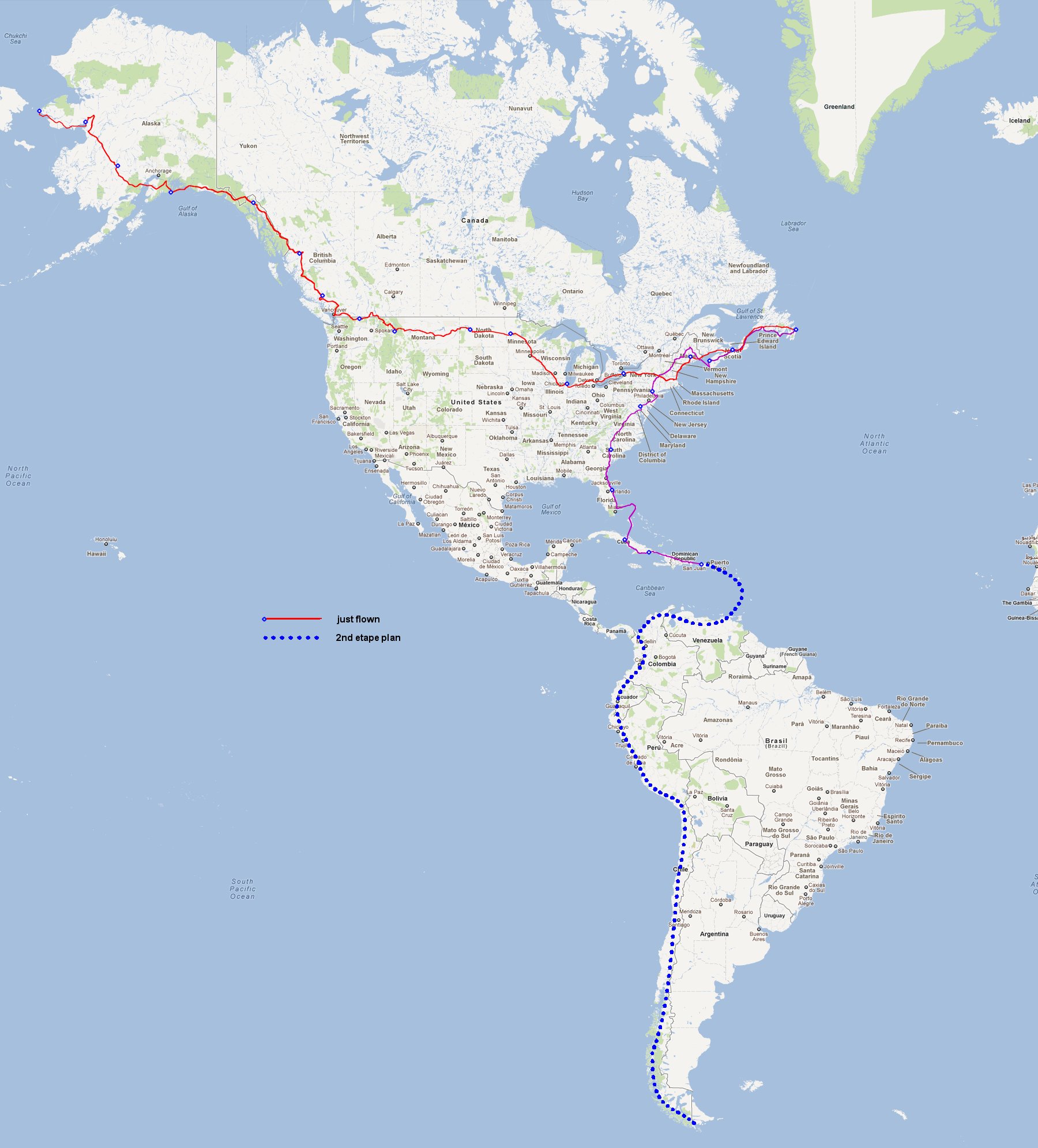 Flight statistics:
1st ETAPE
Number of flight days accomplished: 15
Complete distance miles/km: 8296 / 13263
Maximum height reached: 25,200 ft (cca 7680 m) - 6th day
2nd ETAPE
Number of flight days accomplished: 8
Complete distance miles/km: 4910 / 7766
Maximum height reached: 20,100 ft (cca 6590 m) -8th day
Note:
- CumulusX add-on were used from flight day No.10 including
- from 15th flight day I fly ASH-25
- 3th day of 2nd etape I enjoyed legendery czech "old school bus" L-13 Blanik
- from 5th day of 2nd etape I am using selfmade version of FreeTrack system for controling cockpit view (pic1 pic2 pic3)